Home
› Barcode Maker Software for Post Office
Barcode Maker Software for Post Office
Software Category: Barcode Software
Availability: In Stock
Buy Just in: $49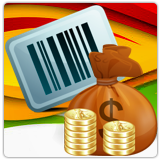 The visibility of mail transmission has been enhanced by providing trace and track facility for registered mail and speed post. The customer can track the mail through postal website by using the unique barcode number. For eg-
Postnet is used to encode the zip code and delivery point.
Planet tracks both inbound and outbound letter mail.
The QR code can represent a pre-paid, debit or credit account number via a smart phones application or the code can contain payment information that can be scanned by consumers' Smartphone.

Working Features:
Creates postage barcode labels using advanced linear and 2D barcode font standards.

Generates bulk numbers of post office and bank barcode labels, stickers using different types of series generating techniques: Random series, Sequential series and Constant value series.
Ability to print bulk numbers of postal barcodes simultaneously with advanced printing setting.
Integrated with wide range of color, font and image settings to create postal and banking industry specific barcode labels.
Provides facility to copy and paste created postal barcode labels in various kinds of Windows application like MS Word, MS Paint and MS Excel.